DJ BIRDMAN IS BACK!
Come on out to a free Grand Opening event this weekend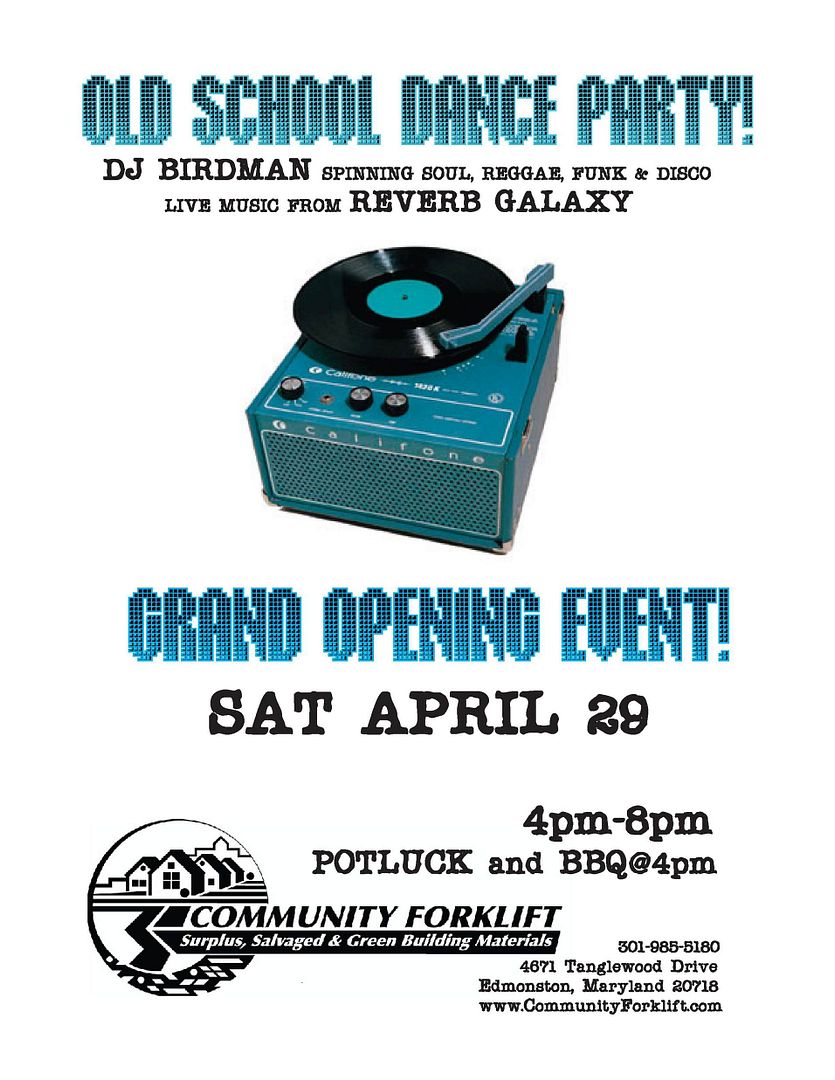 Hey everyone...I know I have been missing in action this past month! But here's what I am up to this weekend!
From the
Community Forklift
press release:
Dancing, Deconstruction, and Dollhouses –
Nonprofit aims to reduce waste and make home repair affordable
Contact: Ruthie Mundell, Outreach Director
email:
ruthie@CommunityForklift.com

office: 301-985-5180 or cell: 301-904-7579

Home improvement stores use a variety of strategies to attract customers, from how-to clinics to gardening newsletters.

Now, a new store in the DC area is trying some unconventional methods, including singles mixers, a potluck dinner, and information on environmentally-friendly building.

Their grand opening celebration is scheduled for April 27-29, 2006. In addition to the potluck, they are planning a "Blessing of the Green Builders" ceremony, a reggae and R&B dance, a "Dollhouses for Little Treehuggers" workshop, and a trade fair showcasing restoration experts and green tradespeople.

But Community Forklift is not your typical home improvement business. Operated by a nonprofit, the store sells surplus, salvaged, and green building materials at very low prices. Almost everything in the store was once destined for the landfill, from the items for sale to the display racks and checkout desk.

President Jim Schulman explains, "Unfortunately, we get a lot of calls from people who want to buy forklifts! But our name explains our mission: we hope to lift up communities by making repairs more affordable for homeowners, small businesses, and community groups. By collecting donations of new and used items, we can reduce waste and provide building materials very inexpensively to folks who need them.

Construction debris makes up over half of America's solid waste stream. Contractors and manufacturers need to clear out leftovers and excess inventory, and have to throw away items that are still in the original packaging. During renovations, homeowners often toss out perfectly good appliances, cabinets, wood flooring, or bathroom fixtures.

Community Forklift offers an alternative, making it possible to choose to reuse.

Schulman adds, "The re-use of building materials is a winning situation for everyone involved. Half of our inventory comes from deconstruction, in which a building is taken apart carefully by skilled laborers instead of demolished with heavy machinery. This creates jobs, uses less fossil fuel, and costs the same or less than traditional demolition. Instead of paying dumping fees, businesses and property owners earn tax deductions. The unemployed find careers through job training in the deconstruction industry. The materials can be sold cheaply, so homeowners and small businesses can afford repairs - making neighborhoods cleaner and safer. Nonprofits, artists, and theatre groups can find materials at low prices. Renovators can find antique trim and hardware to preserve historic buildings. And everyone benefits because less virgin material is taken from the ground or the forest."

Outreach Director Ruthie Mundell says, "Our customers and volunteers are a fun group – they come here to poke around the store, but I think they also like meeting other packrats, treehuggers, and bargain-hunters. The singles volunteer mixers are great – they do a lot of work for us while they're socializing. Right now, I need to find more volunteers to help with the party at the grand opening, and more businesses to participate in the trade fair. It's free!"

For more information about the grand opening, donation guidelines, or materials in stock, contact Community Forklift at 301-985-5180. Their website is
www.communityforklift.com
, and the store is located at 4671 Tanglewood Drive, Edmonston, MD 20681. It is five minutes from the DC line, and easily accessible from the DC Beltway, I-295, Kenilworth Avenue, Route One, or Rhode Island Avenue.