JAZZ CORNER of the WORLD w/DJ Birdman


This Wednesday Night, 4/3/06 Saint-Ex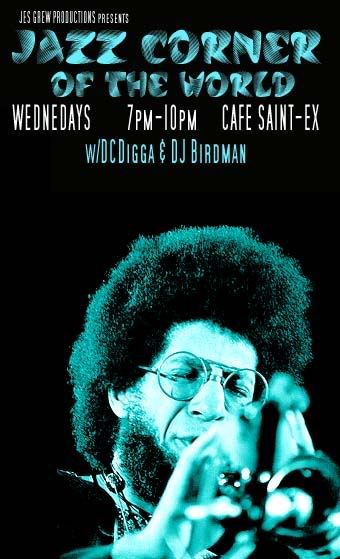 Looking forward to returning to the gig after an extended break from the Jazz Corner! While I was relaxing and recharging my batteries, thankfully I had my partner in crime, the incredible Mr DC Digga, covering the waterfront AND my nights with his superb mixing skills and even better taste in funky jazz. His incredible enthusiasm for this weekly event have made it a pleasure to keep going! And in case any of you out there are keeping score, we are beginning our THIRD summer season since DJ Fatback and I founded this thing back in the Spring of 2004!
So come out this (and every) Wednesday for your weekly dose of great Jazz and related sounds! DC Digga and I go out and get our hands dirty nearly every day scouring the area for all types of great jazz, and once we do we can't wait to share it with you at the Jazz Corner.
We are also working on a mix to provide for our patrons as well, something a little summery to help you get through from one Wednesday to the next! So when you see us, keep hounding us about it so we get things up and running. It's great to be back!
QUOTE OF THE DAY
"Hollywood is like being nowhere and talking to nobody about nothing. "
-Michelangelo Antonioni